Description
Save time and increase your productivity
Optimized production and independence
Primacy is adapted to printing in batches as it personalizes cards in record time:
In color: up to 225 single-sided cards per hour and 140 double-sided cards per hour,
In monochrome: up to 1,000 cards per hour, as the cards are ejected at the rear, enabling the printing speed to be increased (delivered as standard).
The large capacity of the feeder and hopper, which can each hold 100 cards:
Provides a great level of autonomy in a very reduced space,
And thus reduces the frequency of reloading the cards.
Professional printing
Primacy prints your cards in a high photographic resolution and from edge to edge for a flawless result.
Color printing: up to 300×600 dpi
Monochrome printing: up to 300×1200 dpi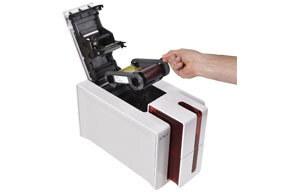 Quick and easy to use
The Primacy printer adapts to your needs:

For use in office mode

The cards are handled at the front of the machine, ensuring that it is quick to use and allowing you to keep an eye on the printing at any time.

For over-the-counter applications (banks, events, shops, etc.):

A printer model equipped with an open hopper is available, so you can collect the cards one by one and hand them instantly to your customers or visitors.
The touchscreen (optional) allows you to interact with the printer in real time.

For applications requiring a high level of security in card printing:

If specifically requested, a model is available with an electro-mechanical locking system to secure access to the printer:

Blank cards,
Printing ribbons,
Printer core and encoding systems,

From your computer:

The Evolis Premium Suite® software lets you easily control the printer thanks to notifications directly on your screen.
With the Evolis software development kit (SDK), you can easily integrate the Primacy systems into your existing IT systems.

The Evolis High Trust® printing ribbons are installed in an instant and are recognized and automatically configured by the printer.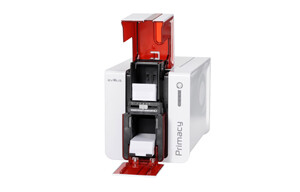 A long term vision
Adaptability
As Primacy adapts to your needs, you can activate the double-sided printing function on site.
You can adapt your printer at any time by integrating a CLM (Card Lamination Module) or a variety of encoders:
Magnetic strip,
Contact chip,
Or contactless chip.
Sustainable investment
Primacy benefits from the experience and proven quality control of Evolis. It guarantees optimal functioning and a perfect result. Evolis' firm commitment to quality is also illustrated by the printer's standard three-year guarantee.
Specifications:
General features
Single-sided or dual-sided printing module
Edge-to-edge printing
Color dye sublimation, monochrome thermal transfer
300 dpi print head (11.8 dots/mm)
16MB memory (RAM)
Printing performances
Single side:
Color (YMCKO): 190 – 225 cards/hour1
Monochrome: 600 – 850 cards/hour
Dual side:
Color (YMCKO-K): 140 cards/hour
Optional features
Colors available: fire red & brilliant blue
Upgrade kit for dual-sided printing
USB encoding over IP through additional USB Net Server module, upon request
Locking system to prevent access to the printer and consumables (cards and ribbons)
Wireless range: wireless connection 802.11b/g
Available modules
Magnetic stripe encoder ISO 7811 / JIS2
Smart contact station ISO 7816
Smart encoding unit
Contactless encoding unit
Internal USB or IP connections
Encoding options can be combined
Factory ordered or upgraded on-site
Interfaces
USB 1.1 (compatible 3.0)
Ethernet TCP-IP 10BaseT, 100BaseT (Traffic Led)
802.11b/g wireless connection on the Wireless range
Safety
Support for Kensington® security lock
Data encryption for magnetic encoding
Display
Printer LEDs
Graphical notifications from the printer2: cleaning alerts, empty/low level ribbon alert, etc.
Resident fonts
Arial, Arial bold
Barcode: Code 39, Code 128, EAN 13, 2/5 interleaved
Card management and specifications
Feeder capacity: 100 cards (0.76 mm – 30 mil)
Output hopper capacity: 100 cards (0.76 mm – 30 mil)
Reject tray capacity: 30 cards (0.76 mm – 30 mil)
Card thickness: 0.25 to 1.25 mm (10 to 50 mil), gauge adjustment (0.25mm / 10 mil only for monochrome printing)
Card types:
PVC cards
Composite PVC cards
PET cards
ABS cards1
Special varnished cards1
Card format: ISO CR80 – ISO 7810 (53.98 mm x 85.60 mm)
User Guide:  View User Guide
Brochure:  View Brochure